What is meant by "the Baptism of the Holy Spirit"?
The Baptism of the Holy Spirit occurs when the Spirit indwells the believer at conversion. The Bible clearly teaches that the Holy Spirit permanently indwells the believer (1 Corinthians 6:19). Even the Corinthians who indulged in gross sin were still indwelled (2 Corinthians 1:22). Regardless of the believer's spiritual condition, the Spirit indwells him/her. How do believers know that they are indwelled with the Spirit? They know according to the previous Scriptures as well as the fruit of the Spirit in the believer's life (Galatians 5:22-23).
We not only are indwelled by the Holy Spirit, but we are also baptized in the Holy Spirit (1 Corinthians 12:13). This is for all believers without exception. It occurred for the first time at Pentecost (Acts 2:4). Every believer is baptized into the Spirit only once. This is because the Holy Spirit seals us until the day of the Lord (2 Corinthians 1:22; Ephesians 1:13; 4:30). However, being sealed with the Holy Spirit never gives anyone a license to sin (Romans 6).
Every believer needs to be filled with the Holy Spirit (Ephesians 5:17-21). This is referring to a life that is under the influence or control of the Spirit. He leads and guides the believer, as the believer is sensitive to the Spirit. In the Greek the verb "be filled" is plhrou=sqe, which means "continue being filled with the Spirit". In order to be controlled by the Spirit, the believer needs to have a dedicated life (Luke 9:23-24). In addition, it is important not to grieve the Spirit (Ephesians 4:30). Thus, a Spirit-filled life is a life of dependence (Galatians 5:16).
When a believer is filled with the Holy Spirit, he/she receives several benefits. First, the Holy Spirit teaches the believer (John 16:12-15; 1 John 2:27). Also, the Holy Spirit guides him/her as well (Romans 8:14). The Holy Spirit assures the Christian that he/she is a child of God (Romans 8:26). In addition, the Holy Spirit prays on behalf of the believer. He not only guides the believer and directs him/her as he/she prays (Ephesians 6:18), but He intercedes on behalf of all believers (Romans 8:26-27).
For more information call or write: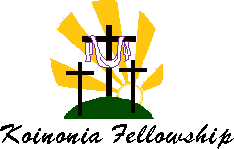 10240 W Jewell Ave #B
Lakewood, CO 80232
Phone: (303) 989-6456
Fax: (303) 942-7056