Can you be in God's will and not be an active part of a congregation?
Scripture clearly teaches that it is God's will that a Christian be an active part of a congregation. Hebrews 10:25 explains to the Hebrews that they were not to forsake the congregation of believers. There are several reasons for this view:
Most of the New Testament pertains to the local church
In the Bible most epistles are written for local organized groups of Christians living in a certain place (1Cor 1:2; 1Th 1:1). These letters instruct believers how to function individually as well as to function as a corporate body. For example, the New Testament explains the organizational structure of the local church. For example, there are elders (1 Timothy 3:1-7; Titus 1:5-9) and deacons (Acts 6:1-7; 1 Timothy 3:8-13). The Bible teaches that the qualifications for elders and deacons are high. If the local church was not important, Paul would not have spent so much time instructing local congregations on church life (see 1&2 Timothy and Titus).
Communion is explained in a public context
In 1 Corinthians 11:20-34 Paul gives the Corinthian church explicit instructions on how to partake of communion. Not only is it a remembrance of the life and death of our Lord, but communion is also a constant reminder of the oneness that we have with one another through Christ and the fellowship that we share with the Body (1 Cor 11:17). Although the Bible doesn't forbid a person from observing communion by himself/herself, believers usually observe communion in groups.
The local body is the outworking of Koinonia
Throughout the New Testament there is an emphasis on Koinonia, which is the Greek word for fellowship or communion. In Acts 2:42-47 when the first believers were saved and baptized they began to meet together in homes and they continued in the apostles' doctrine and fellowship (which includes other people), and in breaking of bread, and in prayers. All of the believers were together and had all things common (v. 44). Furthermore, verse 46 states that "every day they continued to meet together in the temple courts. They broke bread in their homes and ate together with glad and sincere hearts". Thus, it is only natural that believers seek to meet together.
Koinonia is only possible in a group setting.
Scripture gives much attention to how we relate to one another in the body. For example, believers in local congregations are to obey the following:

Be devoted to one another in brotherly love (Rom 12:10 ).

Honor one another above yourselves. (Rom 12:10 )

Live in harmony with one another. (Rom 12:16 )

Love one another (Rom 13:8; 1 Pet 1:22 )

Stop passing judgment on one another. (Rom 14:13 )

Accept one another (Rom 15:7 )

Instruct one another. (Rom 15:14 )

Greet one another with a holy kiss. (Rom 16:16; 1 Cor 16:20; 2 Cor 13:12 )

Agree with one another. (1 Cor 1:10 )

Serve one another in love. (Gal 5:13 )

Bearing with one another in love. (Eph 4:2; Col 3:13 )

Be kind and compassionate to one another and forgiving each other (Eph 4:32 )

Speak to one another with psalms, hymns and spiritual songs (Eph 5:19 )

Submit to one another out of reverence for Christ. (Eph 5:21 )

Forgive whatever grievances you may have against one another (Col 3:13 )

Teach and admonish one another with all wisdom (Col 3:16 )

Encourage one another and Build each other up (1Thes 5:11; Heb 3:13; Heb 10:25 )

Spur one another on toward love and good deeds (Heb 10:24 )

Let us not give up meeting together (Heb 10:25 )

Do not slander one another. (James 4:11 )
Thus, these commands were given in the context of the local congregation. Koinonia cannot occur apart from the local body.
Scripture teaches us that corporate worship is beneficial and healthy congregations
The church is the place where true believers gather together to worship God (Phil 3:3; Eph 1:12; Col 3:16; 1 Pet 2:9; Rev 5:12). Not only is corporate worship important in the New Testament, but collective worship was instrumental for Israel as well (2 Chr 30:12-26; Neh 8:5-10)
For more information call or write: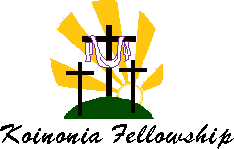 10240 W Jewell Ave #B
Lakewood, CO 80232
Phone: (303) 989-6456
Fax: (303) 942-7056