Who is Jesus?
Who is Jesus called the Christ? Like Pilate, we need to ask, "What am I going to do with Jesus which is called Christ?" (Matthew 27:22 KJV). Some people feel that he was a great moral teacher or was even a prophet. Some people believe that he was a martyr who died for a good cause (the good of humanity, not the sin of the world). C.S. Lewis, on page 56 in his book Mere Christianity, has an interesting quote:
"I am trying here to prevent anyone saying the really foolish thing that often say about Him: 'I'm ready to accept Jesus as a great moral teacher, but I don't accept His claim to be God.' That is the one thing we must not say. A man who was merely a man and said the sort of things Jesus said would not be a great moral teacher. He would either be a lunatic—on a level with the man who says he is a poached egg—or else he would be the Devil of Hell. You must make your choice. Either this man was, and is, the Son of God: or else a madman or something worse. You can shut Him up for a fool, you can spit at Him and kill Him as a demon; or you can fall at His feet and call Him Lord and God. But let us not come with any patronizing nonsense about His being a great human teacher. He has not left that open to us. He did not intend to."
Who is Jesus? Was he a good man or the God man? A good place to start is Philippians 2:5-11. Here are some things that we can learn about Christ.
The Divinity of Christ
1. Jesus is equal with God.

John 8:58
The statement "I am" is not only a claim to existence before Abraham but also a reference to the sacred name of Yahweh (Exodus 3:14).

John 5:18; 10:30
Not only did he claim that he and the Father (Jehovah) are one, but many times he referred to himself as the Son of God. This phrase "son of…" in Jewish culture means representative of, equal to. Jesus is truly the divine God.
2. His works attest to His deity.

Mark 2:1-12
Because Jesus is God he has the power to forgive sins; thus, he healed the man to prove that he had this power.

John 5:27
Because Christ is God, he has all authority to judge and is the Divine Judge. Also check out the following verses:

John 1:3

Colossians 1:16-17

Hebrews 1:3

Acts 17:31
3. Christ's attributes attest to His deity.

Omnipotent
Matthew 28:18
Revelation 1:8

Omniscient
John 1:48

Omnipresent
Matthew 18:20
Matthew 28:20
Ephesians 1:23
the humanity of Christ
4. He had a human body.

Matthew 1:18

John 8:40

1 John 1:1
5. Jesus had a human soul and spirit.

Matt 26:38

Luke 23:36
6. Jesus had the characteristics of a human being. He was:

Hungry—Matthew 4:2

Thirsty—John 19:28

Grew tired—John 4:6

Experienced love and compassion—Matthew 9:36

Wept—John 11:35

He was tested—Hebrews 4:15

He was angry—John 2:14-17
This doctrine of Christ's divinity combined with his humanity is called the
Hebrews 4:15
"For we do not have a high priest who is unable to sympathize with our weaknesses, but we have one who has been tempted in every way, just as we are—yet was without sin"

One thing we need to keep in mind is that Christ was not tempted to see if was able to fall; rather Christ was tempted in order to prove that he was sinless.

One person put it like this: "Christ was hungry as a man, yet he fed the hungry as God. He was thirsty as a man, but he said 'If any man thirst, let him come unto me, and drink.' He was weary, yet he says 'he is our rest.' He paid taxes, yet he is a King. He prays, yet he hears prayer. He weeps, yet he dries our tears. He was sold for 30 pieces of silver, yet he redeemed the world. He was lead as a lamb to the slaughter, but he is the good shepherd. He died, yet he gives life. There has never been a man like Jesus." (Anonymous).
By the way, if you know who said this quote, please e-mail me so I can give credit to whom credit is due.
For more information call or write: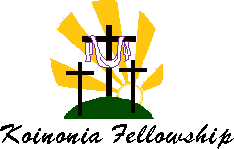 10240 W Jewell Ave #B
Lakewood, CO 80232
Phone: (303) 989-6456
Fax: (303) 942-7056